In a world that's increasingly relying on video, knowing how to present yourself and your message online in professional settings can determine your success. Most of us feel that we are "better" in person, and it is time for us to feel that same level of confidence online.
Let's learn how to stand out virtually and unleash our authenticity when leading or participating in a meeting, hosting a financial well-being webinar, sharing the value of your credit union on a virtual stage, or building your brand on social media sites like LinkedIn.

Join Lorraine Lee, a 5x-LinkedIn Learning Instructor, video and presentation expert, and former LinkedIn editor, for a webinar designed to help you create online engagement and a strong virtual presence.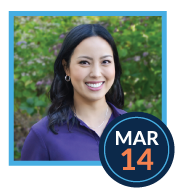 Included: Stand Out! Handout – video tool and set up list.: 
$79.00 per person
March 14 8:30 AM Pacific/9:30 Mountain/10:30 Central/11:30 Eastern